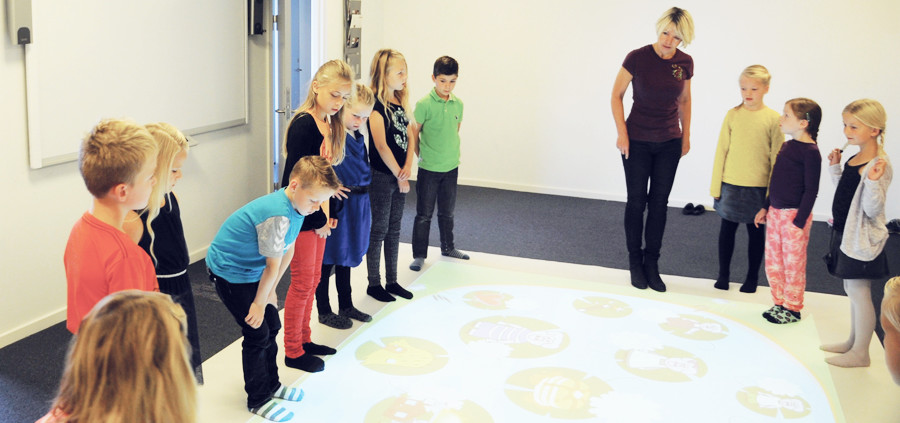 Movement in the learning process provides improved academic results
Langhøj School in Denmark is working with movement and learning consciously. The investment in Active Floor – an interactive floor – gives them even more opportunities to pursue their educational principles into practice.
Active Floor was installed in December 2015 at Langhøj School. The decision about having an interactive floor at the School is completely in line with the School's fundamental educational principle – that learning in combination with movement creates better academic results. Another initiative that supports this educational principle at the school involves physical activity before a test with the aim of "energizing" the student's brains. During the test the students get blueberry smoothies, which has the beneficial effect that it increases the supply of oxygen to the brain.
The School's intention for 2016 is to put more focus on particular:
Movement
Active Floor as an inspiration to the supporting education
Common development of learning pathways
Langhøj School is a part of Hvidovre municipality. They have increased their focus on digital behavior, which Active Floor can be a natural part of.
Peter Büchner Hede, who is the Manager of the Daycare at Langhøj School and has a sport pedagogical background, says: "Active Floor is a brilliant tool to support all the goals and intentions that we have. With Active Floor we can combine many things that previously were not possible. All students can join and play on the interactive floor. They can participate whenever they want and the academic level of difficulty can be adapted to the individual student. "
"In the late hours at school the children are burned out. At this point playing at Active Floor is a fantastic way to keep them motivated to learn through fun and movement" says Peter Büchner.
Teachers and educators are excited…
With Active Floor you get access to a wealth of games, ready to be played on the interactive floor. This makes the teachers and pedagogues really excited, but they also appreciate that they can easily form their own games with exactly the content to suit the teaching or activity they are working on.
"For example last week we had "Reading Week" at the school where we had a number of stations with different types of tasks for the students. Here we used Active Floor to train nouns in a fun way. And the other day one teacher had made a Star wars game with text and images, which really made the kids excited. There are so many possibilities," says Peter Büchner.
Besides being used in the school hours Active Floor is a very good tool for free time use. Peter Büchner states that it is so easy to use that the children can play on the floor without a teacher or pedagogue have to be there.
"We think that Active Floor is fantastic!" Peter Büchner says.
Facts
Langhøj School has approximately 730 students
Active Floor at Langhøj School is located in a theater hall, so all students can benefit from it
It consists of a vinyl floor, a ceiling-mounted projector, a computer and a camera which captures movements
Our local reseller provides the implementation and training of teachers and educators
There are more than 100 different learning games available at the floor
https://activefloor.com/wp-content/uploads/2016/04/billede1-langhøjcase.jpg
499
900
Simone Würtz
https://activefloor.com/wp-content/uploads/2017/10/Logo-header17.png
Simone Würtz
2016-04-08 15:30:42
2021-01-20 14:45:09
Teachers are thrilled at Langhøj school